Just a quick little update for you. Today I begin major preparations for the Ancient Art course I will be teaching this fall. I have finally amassed what I hope will be enough texts and other sources to create just the right balance of readings and images. A unique challenge my chair threw at me when she offered me this course was to include some non-Western Ancient Art. Specifically, she wants a lesson on Central Africa. This is unusual as Ancient Art courses typically cover Egypt and the Ancient Near East, but otherwise stick to regions which are now a part of Europe. My problem is that there are no texts (at least none that I have found) which include Central Africa along with the more traditional Ancient materials. I have found a supplement and hope it will pan out. And since I am already going non-Western, I decided to include a section on Ancient Mesoamerica (particularly the Mayans) as well.
One thing I am thrilled to include in the course is a trip to the University of Pennsylvania Museum of Archeology and Anthropology. Located just twenty minutes from my campus, UPenn has one of the greatest collections of ancient artifacts in the North America. I plan to spend a day there with my students and will send them on a sort of scavenger hunt throughout the museum. One thing they will definitely need to see is the granite sphinx, the third largest in the world. I will also take a research trip to the museum myself prior to the semester starting because UPenn's collection includes artifacts from both Central Africa and the Mayans!
As I am in the early planning stages still, I pose a question to my fellow art historians. If you have taught an Ancient Art class before, what sorts of lessons did you plan? Did any of you cover non-Western art? Have any tips for a newbie?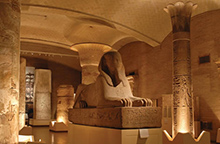 Sphinx, Memphis (Palace of Merenptah), Dynasty 19,
Reigns of Rameses II-Merenptah
(1279-1204 BCE), University of Pennsylvania
Museum of Archeology and Anthropology
Update: It occurred to me later that Sub-Sahara Africa is more accurate than Central Africa. However, I plan to limit myself to peoples and artifacts dating no later than the fall of the Roman Empire. Otherwise, it would just get too crazy. The same goes for Mesoamerica. The Aztecs are interesting, but far too late to be covered in an Ancient Art class.